Our 30 Best Tips for Lead Generation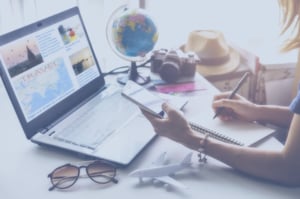 Are you frustrated because you have beautiful travel website with wonderful photos and content, but it's not the driving traffic, leads and sales you need to have a thriving travel business?
Converting website visitors to leads is a travel marketer's single most important objective. And if you're having trouble meeting your goals for number of leads generated each month, you're not alone. According to research by HubSpot, only 1 in 10 travel marketers say their lead generation efforts are highly efficient and effective.
An effective website conversion strategy must be targeted to the right audience and requires marketing tools that allow you to measure your results and track your leads through your sales process. You also need to provide lots of opportunities on your webpages for your visitors to convert into leads.
We have something that may help you. We've compiled our 30 greatest lead generation lessons in this brand new guide, so you can start reeling in those leads.
Download these 30 tips to learn:
What makes the best lead-generating content that will attract the most qualified leads to your business

What drives killer landing page performance, and how to make your landing pages convert at rates of 20% and higher

How to create offers that are irresistible to your target market

Secret website optimization tips with A/B testing

...and more!
This is your guide to generating more quality leads, and in turn more revenue, for your business
Get your free copy now. Just fill out the form.